Reliance company's chairman and managing director Mukesh Ambani announced a new membership plan called Jio Prime In Today's Press Conference. The Jio Prime Membership Is New Plan Of Jio's Already announced 4G Plans and Its Available Only For the Existing Jio Users With Guide To Activate It
No one ever in India offered unlimited free calling without any hidden charges but Reliance JIO provided this offer to each and every customer and is going to continue this in future for paid plan customers.
#HotUpdate
:
Today (21st Feb)
Jio announce new plans from 1 March Jio launch JIO PRIME MEMBERSHIP where jio users Get another 1 Year Happy New year offer On Rs 99 .By Paying Rs 99 you will become Prime member for 1 year and after Rs 303 recharge per month upto 12 months you can enjoy all Happy new year offer which you are currently using . More detail awaited we inform You as we get all details in detail.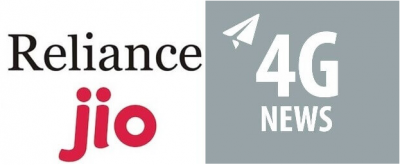 Jio 4G Services Will not Be Free After 31st March 2017
Reliance has Announced the End Of Its Jio Free 4G Services And Users Without Jio Prime Membership Will not be Able to Enjoy The Free Jio 4G Services.
To Continue Using The Jio 4G Services Existing Jio Users Have to Subscribe The Jio Prime Membership Plan Of Rs.99 & Have to Purchase The 4G Plan Worth Rs.303 Every Month To Continue Using The Benefits Of Jio Happy New Year Offer That is Free 1GB 4G Data Daily Post Usage 125kbps Speed Unlimited 4G Data
How To Activate Jio Prime Membership?
Subscription To Jio Prime Membership Will Be Activate From 1st March to 31st March 2017 With The One Time Fee Of Rs.99
Jio Users Can Activate Jio Prime Membership From Various Places Including :
• From MyJio App
• Via Local Jio Offline Stores
• From Companies Official Website Jio.com
How to Keep enjoying Free Jio 4G Data After 31st March 2017
To Keep Enjoying Various Free Jio Services including JioTV, JioMusic, JioMags, Jio Cinema and JioXpressNews You Have To Subscribe The "Jio Prime" Membership Plan First And Then You Have To Avail The Another Plan With introductory price of Rs 303 per month.
Jio Prime users With Having Rs.303 Plan will continue to enjoy these 'unlimited benefits' till March 31, 2018. Other than free data, the services include JioTV, JioMusic, JioMags, Jio Cinema and JioXpressNews.
With Subscriptions To Both Plans (Jio Prime + 303 Plan) Jio User Will Get Benifits Same As Jio happy New Year Offer – Including :
• Daily 1 GB high Speed data + Post Usage Unlimited Data with 125Kbps
• Unlimited Jio Premium Apps -JioTV, JioMusic, JioMags, Jio Cinema and JioXpressNews
• Unlimited Free Calling with Free Roaming
• Unlimited High Speed 4G Data In Night (2 AM to 5 AM)
What Will Happen If I Not Subscribe Jio Prime Membership Plan ?
Jio Prime Membership Plan Is Worth Rs.99 Which Is Quite High For "Free Jio 4G Users" So What Will Happen To Your Jio SIM If You Not Take Jio Prime in March 2017?
" As announced By Jio during the launch of the Jio Services in September 2016, the domestic voice calls will continue to remain free. Roaming too will be free on Jio's network "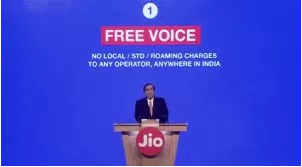 You Will Be Able to Enjoy Unlimited Free Incoming And Outgoing Call Facilities From Your Jio 4G SIM If You Have VoLTE Enabled Phone , If You Don't have VoLTE Phone Then We Recommend To Buy One Right Now
>
Offer Souce
<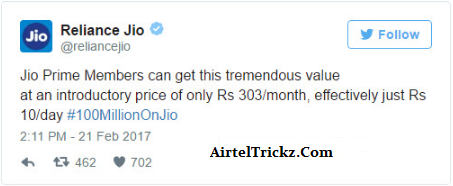 JIO Prime Offer Highlights
* Jio will not be a free service anymore after 31st March 2017.
* You Need to Subscribe for Paid JIO Plans.
* You Can Enjoy Free Local, STD Calling.
* You Can Enjoy 30GB data a month, OR 1 GB a day !
* You need to Buy 1 yearly plan of 99 Rs In order to Enjoy Above Services.
* After Subscribing to Yearly Prime Plan, You can Enjoy these service on a monthly rental of 303 Rs.
Final Words :
If You Are Hardcore 4G Users Then You Must Have to Activate Jio Prime Membership With 303 Plan To Keep Enjoying Jio Happy new Year Till March 2018, And If You Are Just Ordinary Users Who Took Jio SIM Just For Free 4G Then You Can Still Keep Jio SIM For unlimited Free Calling Purpose, Its All Upto You now….
If you compare this deal with other operators then still jio cheap 30GB / Month (10 Rs per day) at just Rs 303
.