What is Reliance Jio :-
Jio, also known as Reliance Jio and officially as Reliance Jio Infocomm Limited, is an upcoming provider of mobile telephony, broadband services, and digital services in India.Now Reliance Jio Doesn't needs any explanation. Everyone is aware of it if you are our daily visitor. We are sharing some important Jio Updates in this post & Some important scam alerts you must need to know those.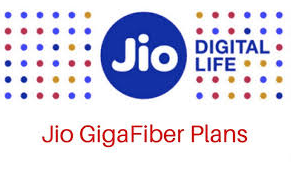 Reliance JioFiber Service Service in India :-
Reliance Jio already tested their fiber connection in Cities like Mumbai and Delhi, its yet to launch in other cities of the country. Jio will offer some free service with this connection as well as some attractive plans too.
UPDATE – JIO BROADBAND SERVICE HAS STARTED IN MUMBAI
JioFibre plan which is exclusively available to some users is known as FTTH Base Plan. Recently various plans of Jio Broadband has been made available to the public. The plans range between 500 to 5500. User can choose a convenient plan for himself which will differ in Data usage and speed.
Types of JioFiber Broadband Plans :-
1. Jio Giga Fiber
Speed-based
plans.
2. Jio Giga Fiber
Volume-based
plans.
3. Jio Giga Fiber
Special broadband
plans.



How To Apply for Reliance Jio Fiber Service ?
After the launching of Jio Broadband service, you can fill the application form from your nearest Reliance Digital Xpress Mini, Digital Life store, Reliance Mini/DX store, also from Jio.com official website. So till you have to wait for broadband service launching.
Reliance JioFiber Service Broadband Preview Offer ?
Its might be possible that Jio would offer some free service under a preview offer, where users will get 100 mbps speed and data usage capped to 100 gb/month for 90 days or less.
The Users who want to purchase the JioFiber then, they will have to pay a refundable security deposit of Rs. 4,500 and continue with some monthly based plan.
Eligible Reliance Jio Fiber Service Broadband Circles:
Below are the states
:-
• Maharashtra
• New Delhi
• Haryana
• Chandigarh
• Kolkata
• Karnataka
• Tamil Nadu
• Rajhasthan
• Orrisa
• Punjab
• Uttar Pradesh